Our Classes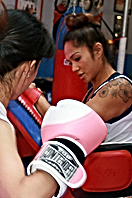 MUAYTHAI KICKBOXING AND BOXING (ALL LEVELS)
We provide one-on-one training for first time participants focusing on the basics. Warm-up includes jumping rope and stretching. The warm-up is followed by drills or shadow boxing without a partner, using combinations (e.g. strike- block-kick or jab-cross-hook) demonstrated by the instructor. The class is then broken down in two pairs or small groups, separated by experience level. Each partner takes their turn performing the combination while the instructor provides feedback. These drills are done in timed rounds and include the use of pads, heavy bags, focus mitts, and kick pads. Drills are geared toward techniques while others are geared toward cardio and endurance. Training is done without injury to participants or their partners through the use of proper equipment and protective gear. The class is an hour in length.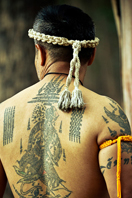 MUAYTHAI BORAN "ANCIENT BOXING" (MUAY BORAN)
is an umbrella term for the unarmed martial arts of Thailand prior to the introduction of modern equipment and rules in the 1930s. It is thus the direct ancestor of modern Muaythai. The word "muay" which means "boxing" comes from the Sanskrit term mavya meaning to bind together. Boran or boraan means "ancient" in Thai. This art and technique trains the mind, body, and soul works together to achieve goals in life.
STRENGTH AND CONDITIONING (ALL LEVELS)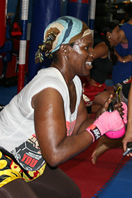 All movements and workouts are scaled to accommodate beginners as well as seasoned athletes. The class format starts with the active warm-up incorporating dynamic stretching, and then moves on to an intense workout which consists of some basic strength movements followed with high intensity interval training. The class is completed with core work. Workouts are measured by time and /or weights being used so there are tangible results to help you reach your goals. The style of the workouts will provide balance to training programs to improve overall fitness. This class is for people who are looking to become stronger, faster, and a better learner or just to become an all-around better athlete. The class is an hour in length.
ADVANCED MUAYTHAI KICKBOXING/BOXING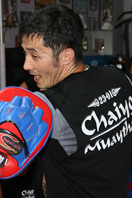 This class is for students who have built a strong foundation in all the level classes and are ready to show their muaythai/ boxing skills (about 6 months of consistent training). It is also geared toward people who already have experience under their belts. Endurance and strength training is at a challenging level. Controlled sparring is covered so students must bring their own mouthpieces, 16 oz. gloves, and shin pads.
SPARRING
SPARRING - This class is for people who want to practice the skills that they learn in class in the ring. Protective gear and at least 6 months of training experience is required before participating in this class.
KETTLEBELL
This class offers full-body conditioning. The body learns to work as one synergistic unit linked strongly together. Kettlebell training involves multiple muscle group and energy systems at once and increases resistance to injury. This training gives you the ability to work aerobically simultaneously. Improved mobility and range of motion and increased strength without increase of mass. Kettlebell exercisers are lean and toned, not bulky. Enhanced performance in athletics and everyday functioning, major calorie burning. In recent study conducted by the highly respected American Council of exercise, participants burned approximately 20 calories per minute - that's 1200 calories per hour!).
Meet Our Trainers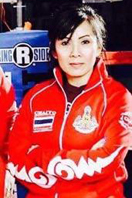 Deffiny Thakoonsak Soungpanya AKA "Mrs. Cheetah" at Chaiyo Muaythai. I started having interest in martial arts at a very young age, but was permitted to participate due to parent's restriction. In 2004, I started looking for authentic muaythai school in the area where I live, but unfortunately, the closest one was in Oakland or San Francisco. Due to time and distance we were unable to attend. I decided then to enroll my son in Taekwondo and soon after I also enrolled myself. I was practicing Taekwondo alongside my son for six years. In early 2010, my niece introduced me to Master Cheetah Chantanao, who has just then opened his Muaythai Academy in Richmond. My son and I did a trial session and we became members right after. After a year, Master Cheetah decided to relocated to a better location in Richmond. For the love of muaythai, I could not refuse to help him create the new Chaiyo Muaythai Academy. Ever since, I have been training and working alongside Master Cheetah.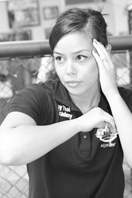 Jacky Chanthanao
, daughter of Master Cheetah Chanthanao, was born and raised in the Bay Area. Jackie currently studies nursing and takes an interest in many health and medical issues. She strongly believes that fitness and diet are vital for maintaining optimal health. Like her father, she enjoys teaching muaythai and wants to share her love for the art with others. Jacky first began training with her father at Kings boxing gym in Oakland, California when she was just a little girl. Growing up, Jacky studied her father's training techniques and accompanied him at any at muaythai bouts in the United States and overseas. She was encouraged to constantly study more time to grow an advance in the art. With over 20-year experience in muaythai, jacky has earned the title of Kru. She has competed locally and has trained among some of the top muaythai fighters in the U.S. and Thailand, including Buakaw and Bunkerd Faphimai. While balancing school and teaching at Chaiyo Muaythai, Jacky applies the focus and discipline she has gained from muaythai to her studies and in her everyday life.
Andrew Suproc
, Born in Berkeley, Andrew has lived in the Bay Area his entire life. His martial arts journey began at several different schools and eventually settled at TG Tae Kwon Do in El Cerrito. He practiced there for 6 years and earned his black belt in 2007. He also practiced judo, Brazilian jiu jitsu, and wing chun. Andrew currently studies Kinesiology at SF State while working as a personal trainer and physical therapy aide at Valencia Street Muscle in San Francisco. Andrew is a firm believer in fitness and has obtained a lot of knowledge from his experience with physical activity. Andrew's bigger goals in life are to become a physical therapist and excel in Muay Thai. He loves to work with people and brings a positive energy wherever he works. He specializes in athletic conditioning, bodybuilding, calisthenics, group classes, weight loss, and injury rehabilitation. Andrew is certified as a personal trainer under the American College of Sports Medicine and CPR certified under the American Red Cross.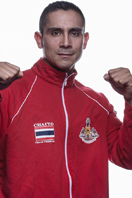 Alejandro (Alex) Hernandez At the age of 14, Alex Hernandez began training with Master Chansadeth "Cheetah" Chantanao. After a few short months under Cheetah's guidance, he began to compete at an amateur level until his mid 20's. Though Alex did not pursue to compete professionally, this never took away his determination and tenacity to embrace the art of Muay Thai. Alex has had the pleasure of training with former Lumpinee Champions including Danchi Fairtex and Bunkerd Faphimai. During one of his travels to Thailand, he trained amongst the K1 Champion, Buakaw Por. Pramuk, as well as International Champion turned super promoter, Clifton Brown. Alex has also practiced Capoeira and boxed out of the legendary Kings Boxing Gym in Oakland; however, Muay Thai has always been, and will remain in his heart. Alex is enthusiastic about not just teaching and training Muay Thai, but also sharing the values and traditions of the Thai culture. His passion and knowledge of this competitive sport is especially apparent in his style of teaching. Alex emphasizes to his students that technique always overcomes brute force, and that hard work beats talent when talent doesn't work hard. Alex's passion for Muay Thai is only slightly surpassed by his love for video games.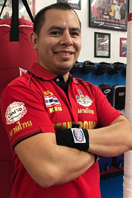 Jesus Sosa
Hello everyone, my name is Jesus Sosa. I just want to tell my story on how I fell in love with muay thai. Before I knew muay thai I drank and smoke a lot. Until, one day I was walking down San Pablo St. and saw a foggy window. I walked inside and saw a lot of people working hard. The name of the school was Cheetah Muay Thai, owned by Master Cheetah. They offered me to stay and try it and so I agreed. That day I struggled to keep up, but I enjoyed it. Then, they let me try a second class. I was 18 years old at the time and since then I have continued to train because I enjoy it a lot. Thanks to muay thai, I was able to quit smoking and drinking. Also, I used to weight 190 lbs. and in four months I lost 50 lbs. I love the way we train because we respect each other and we train hard. It also helps to improve our daily lives. After five months of hard training with Cheetah Muay Thai, I was offered to do smokers for them. Then, I did a few amateur level fights until I hurt myself and had to take a break. Later, one of my friends, Ivan Ramos, decided to open his own gym, Mesh Striking Arts, and he wanted me to help him accomplish it. Once I started teaching, I started training again. I loved it and started doing more amateur fights. I got my first title in 2011, but my mother got sick so I had to go back home to Mexico. Finally, I came back in 2013 to help teach other people muay thai, so that they can accomplish their dreams as a fighter. Today, I am more than happy to help Master Cheetah, my first trainer.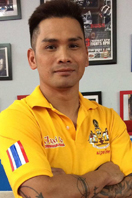 Tong Syvanthong I started off training for boxing first. I trained muaythai for 9 years and now I am a professional muaythai fighter. I fought all around the bay and L.A. I was a light-weight champion for MTA.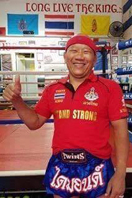 Master Bunkerd Faphimai Thailand champions and world champions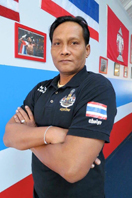 Grand Master Surachai (Jud) Chanmanee Grand Master Jud Chanmanee was born in Champion, Thailand. He is well-known as Buakaw's God Father and muaythai trainer. He raised and trained Buakaw to become K1 Muaythai World Champion in 2001, not to mention many more other champions worldwide. Muaythai has always been his main focus and w ay of life. He trained hard and fought hard at his young age. Now as a trainer he is here at Chaiyo Muaythai Academy to share muaythai skills which he obtained throughout his career.